Princess Angelika Jarosławska Sapieha Calls for Peace & Children Rights on World Peace Day
David Castello 21 września, 2019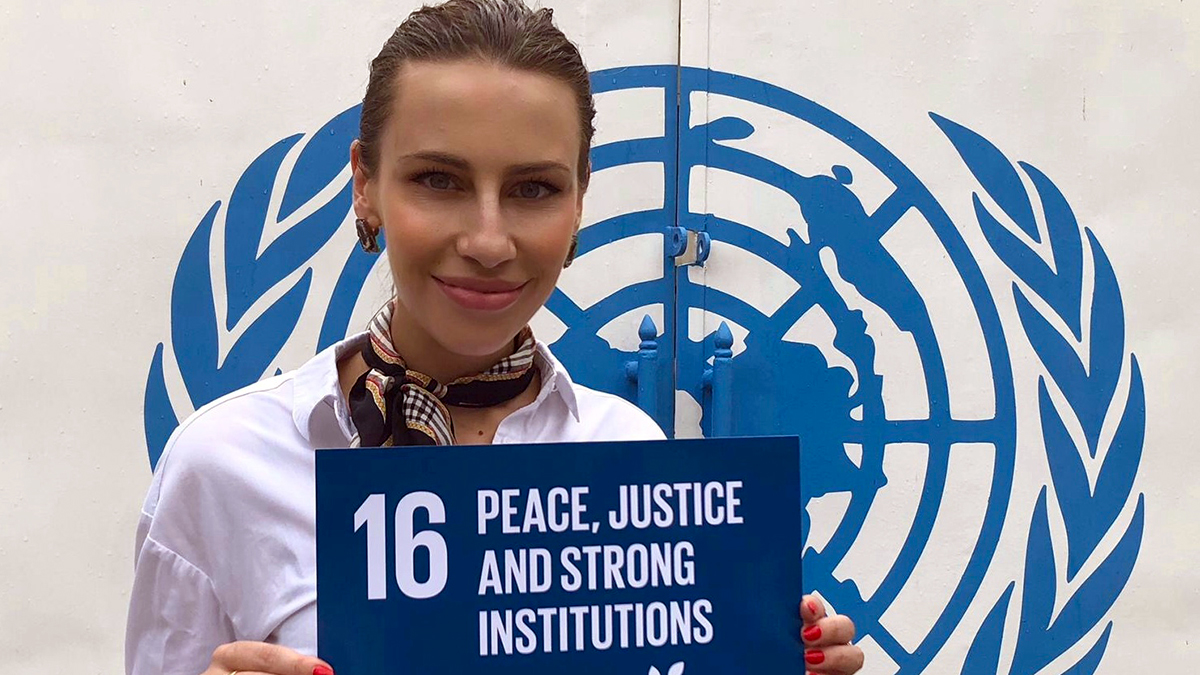 Today we celebrate The International Day of Peace. Princess Angelika Jarosławska Sapieha, Ambassador for Peace calls for Peace and children rights on World Peace Day. The International Day of Peace was established in 1981 by unanimous United Nations resolution, Peace Day provides a globally shared date for all humanity to commit to Peace above all differences and to contribute to building a Culture of Peace.
Today, in 2019, still the World is a bad place for children. Few days ago, UNICEF published the picture from the UN headquarters in New York with 3,758 school backpacks laid at the United Nations, which show the grave scale of child deaths in conflict in 2018.
This year we also mark 70 years since the Geneva Conventions, the international laws that seek to promote humanity.
On the International Day of Peace, Princess Angelika Jarosławska-Sapieha posted on her social media an appeal for international peace. In her hand, we can see one of the SDG goals: Goal 16: Promote just, peaceful and inclusive societies. The threats of international homicide, violence against children, human trafficking and sexual violence are important to address to promote peaceful and inclusive societies for sustainable development.
Princess Angelika Jarosławska Sapieha: "That is the picture I took yesterday. It fills my heart with gladness. Children are the living messages we sent to a time we will not see It is an XXI century and still - millions of children and young people worldwide are affected by armed conflict. Today is a World Peace Day International Peace Day is envisioned to become a moment of global unity. We share a common destiny. We have to join hands to create a more compassionate world free from violence and hate. Building a peaceful future depends on youth leaders and our future is now. We, young people, all have strength, abilities, passion, and capacities to change the world, to make the world a better place. The force of Peace is stronger than hate and violence. Hate cannot drive out hate, only love and respect can do that.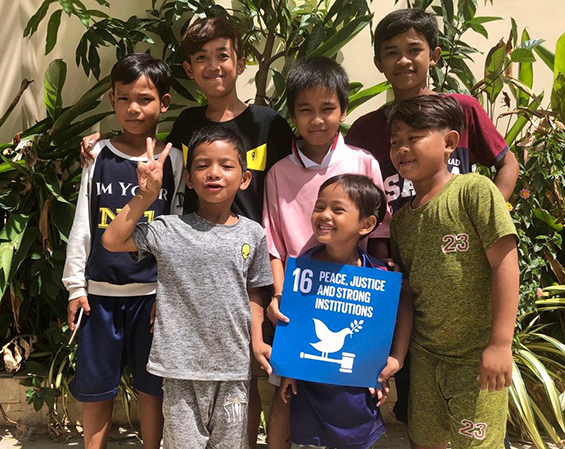 The United Nations Security Council adopted resolution 2250 is the first-ever thematic resolution on Youth, Peace, and Security. This historic document is very important for all young peacebuilders worldwide.
"Youth should actively be engaged in shaping lasting peace and contributing to justice and reconciliation, and that a large youth population presents a distinctive demographic bonus contributing to lasting peace and economic prosperity if inclusive policies are in place."
Princess of the House of Sapieha is a social and humanitarian activist and businesswoman. Sapieha is princely family important in Polish and European history.
Angelika Jarosławska-Sapieha from several years is actively commited to the restoration of peace in Ukraine. In May 2019, she took the patronage of the pediatric department. In 2019, Princess Angelika Jarosławska-Sapieha received the title of Ambassador for Peace by the SPIA HSD UN Soldiers of Peace International Association Humanitarian Support and Development, United Nations Peacekeepers NGO's with General Consultative status of United Nations Economic and Social Council.
Princess Angelika Jarosławska-Sapieha work under flag of SPIA Humanitarian Support and Development as cooperation part of SPIA East Europe & Asia and SPIA Humanitarian Development under umbrella of UN Global Protection Cluster Program for UN Mine Ban Treaty/ CCW II, V Protocols implementation in Ukraine.
Together with the UN Peacekeepers NGO's Princess will provide necessary measures on collections of funds and providing of medical support for rehabilitation of kids - victims of conflicts.