Bieg Niepodległości 2019 w Chicago - Polish Independence 10K/5K Run/Walk 2019
November 07, 2019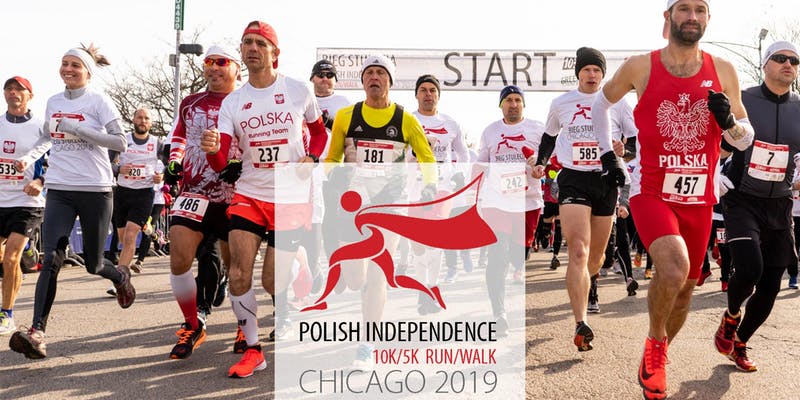 Polish Independence 10K/5K Run/Walk is a race commemorating the anniversary of Poland's resurgence as an independent country on November 11th, 1918.
This USATF-certified, chip-timed course runs along the beautiful Lake Michigan at Montrose Harbor. After the race treat yourself to Polish food and beer. Fresh fruit, coffee, and water will be served as well.
Biegi Niepodległości organizowane są w całej Polsce od 30 lat, a teraz, po niezapomnianym, ubiegłorocznym Biegu Stulecia, po raz drugi w Chicago. Bieg Niepodległości to okazja do uczczenia na sportowo rocznicy odzyskania przez Polskę niepodległości. To nie tylko wydarzenie sportowe, ale też szansa na pokazanie Chicago siły Polonii i podzielenia się naszą radością z tego, że mamy wolną Polskę – nawet jeśli mieszkamy poza jej granicami. Spotkajmy się, by pobiec dla Niepodległej!
There are two distances to choose: Polish Independence 10K Run and Polish Independence 5K Run or Walk. All include tech shirt, finisher's medal and cinch backpack. Each runner gets a food coupon included. Adult runners can also use a beer coupon.
Sun, November 10, 2019
11:11 AM – 3:00 PM CST
Grove 16 - Montrose Harbor
600 West Montrose Harbor Drive
Chicago, IL 60613
Direct link to register: https://www.eventbrite.com/e/polish-independence-10k5k-runw…